We are delighted to announce that our cutting-edge recruitment plugin has surpassed 30,000 active installations! This milestone showcases the trust and recognition we have gained from our valued users, as well as our commitment to revolutionizing the hiring process.
The Early Days
We started as Awsm Innovations in 2016 with a handful of projects. Soon we noticed a common need among the corporate sites we worked on—a robust and user-friendly career page, and the then-existing job plugins were not something easy to use or customize for clients. We resorted to custom create career pages and used a form plugin to create the application form. But it did not give a good user experience for the client. Custom-building career pages was also painful with complex coding and design work, consuming valuable time and resources.
Recognizing the widespread challenge faced by WordPress users, we set out to develop a plugin that would empower them to create and manage job postings effortlessly. Our goal was clear—to offer a user-friendly solution that simplified the hiring process and eliminated the need for custom development.
But we had other projects to deliver and deadlines to meet and the plugin development took a backseat. So we started analyzing the available recruitment tools in our free time to find out what works best and what does not. We could only work on the plugin in our spare time and the progress was slow.
2018 – Launched in WP Repository
We released the plugin in the Repository on August 12, 2018. The plugin was a result of hundreds of hours of research and design. The response we received from our early adopters was overwhelmingly positive, confirming that we were on the right track.
As time went on, we listened attentively to our users' feedback and continuously improved the plugin. We introduced new features and functionalities, enhancing its capabilities and making it more versatile.
As the plugin was catering to a niche audience, the growth was mostly organic but we were soon able to surpass all other tools with roaring reviews.
Current Status
Today, we are proud to announce that our recruitment plugin has surpassed the milestone of 30,000 active installations. Additionally, we have developed four valuable add-ons for the plugin, further expanding its capabilities. The plugin has received a staggering 115 five-star reviews in the WordPress Repository and has been featured in numerous listicles about job listing plugins.
Analyzing the recruitment and staffing technologies market share, popular technology profiler Wappalyzer, puts WP job Openings in #1 position on the percentage of websites that use a recruitment & staffing tool, followed by popular SAAS recruitment tools like Lever and Workable.
Secret behind our achievement
Right from the beginning, we had a clear vision about this plugin and we have stuck to the initial plans we made. We can attribute the success of this plugin mainly to these factors:
Built by WordPress Core contributors
Our plugin is lovingly crafted by a team of WordPress core contributors who are the best in the industry. They bring unparalleled expertise and passion to the development process. You can only get the best plugin when it's built by the best artisans.
Reliable & unparalleled customer support
Our dedicated support team has received high praise from our users for their prompt and knowledgeable assistance. They always go the extra mile to ensure our customers' satisfaction. Most of the reviews are due to their magic in charming the users.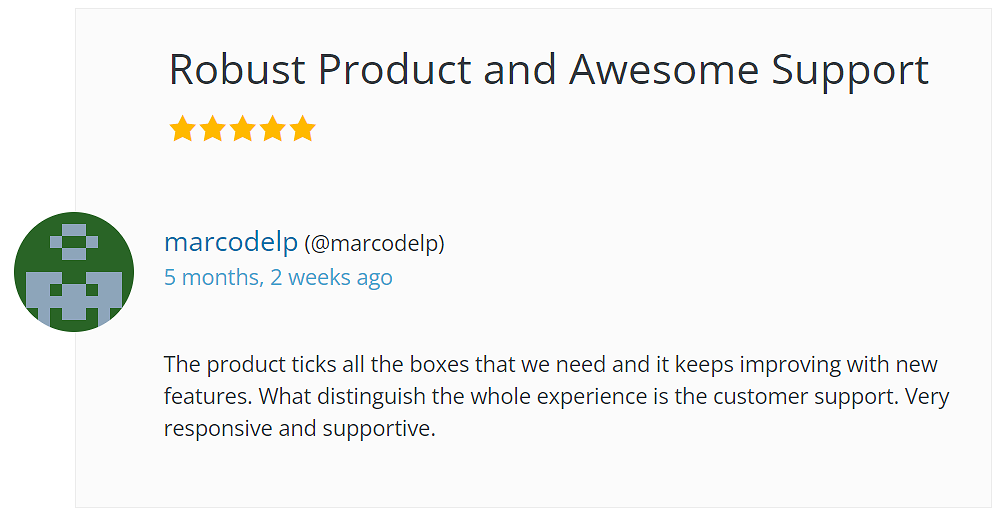 We had realized in the early days the drawbacks of chat and telephone support and made use of the ticketing system. Currently, we are using HelpScout to make things easier.
Easy-peasy to use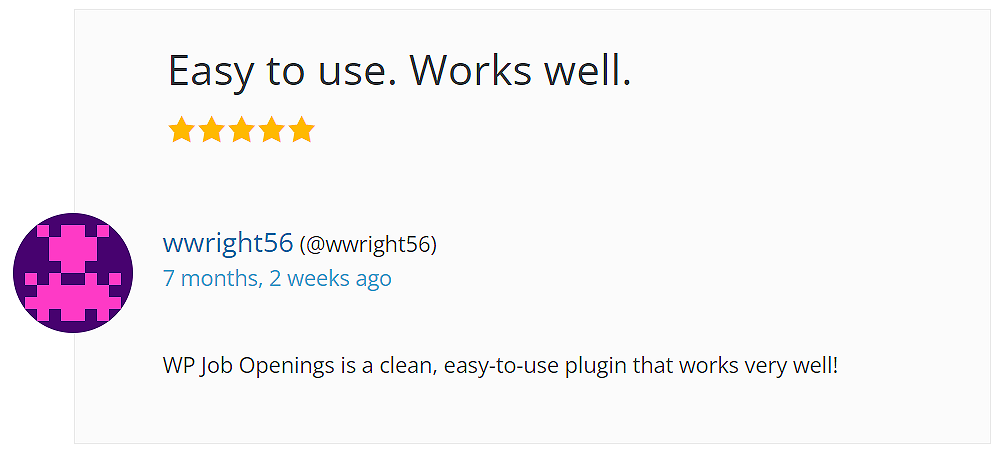 We were adamant about our plugin having a user-friendly interface. Designed with simplicity in mind, even those with minimal coding knowledge can effortlessly set up and manage job postings on their WordPress websites. The plugin seamlessly integrates with the existing site infrastructure, ensuring a smooth and hassle-free experience for our users. We don't believe in torturing our users with long winding User Manuals or complicated settings.
Best friend of recruiters
A recruiter should be able to focus on recruiting the best talent for his team and not spend time doing clerical work. We ensured that the plugin can be installed in under 60 seconds! This lets the recruiters quickly post the openings available and start the hiring process. From quick installation to comprehensive features like communication tracking, resume management, and applicant categorization, our plugin is designed to be a recruiter's best friend.
Ease the job of developers
Our plugin is GDPR compliant and gets along with almost all the themes. It is also compatible with WPML and Polylang plugins. It has a powerful form builder and is flexible, scalable, and has hooks and filters, making it easy to modify and tweak to specific needs. Developers can play around to their heart's content.
Powerful addons
We actively listen to our users and are always ready to develop what they desire. But the downside is that too many features will weigh down the plugin. So instead of adding the requested features to the main plugin and bloating it, we launch addons. This approach allows us to maintain a lightweight core while providing specific functionalities to users with unique requirements.
Thank you!
We thank all our incredible users for this achievement. Your support, feedback, and loyalty have been invaluable, and we are committed to continually surpassing your expectations. Thank you for being a part of our journey!