Job Alerts Add-on
Add a job alerts subscription form and send out automatic alerts when new openings are published
Job Alerts for WP Job Openings is a feature-rich addon that enables you to automatically send daily email alerts to subscribers when new jobs are added to your website. It offers various customization options, including the ability to place subscription forms in different areas of your site and allow subscribers to choose their preferred job specifications. This addon enhances the user experience, increases job seeker engagement, and streamlines the job application process.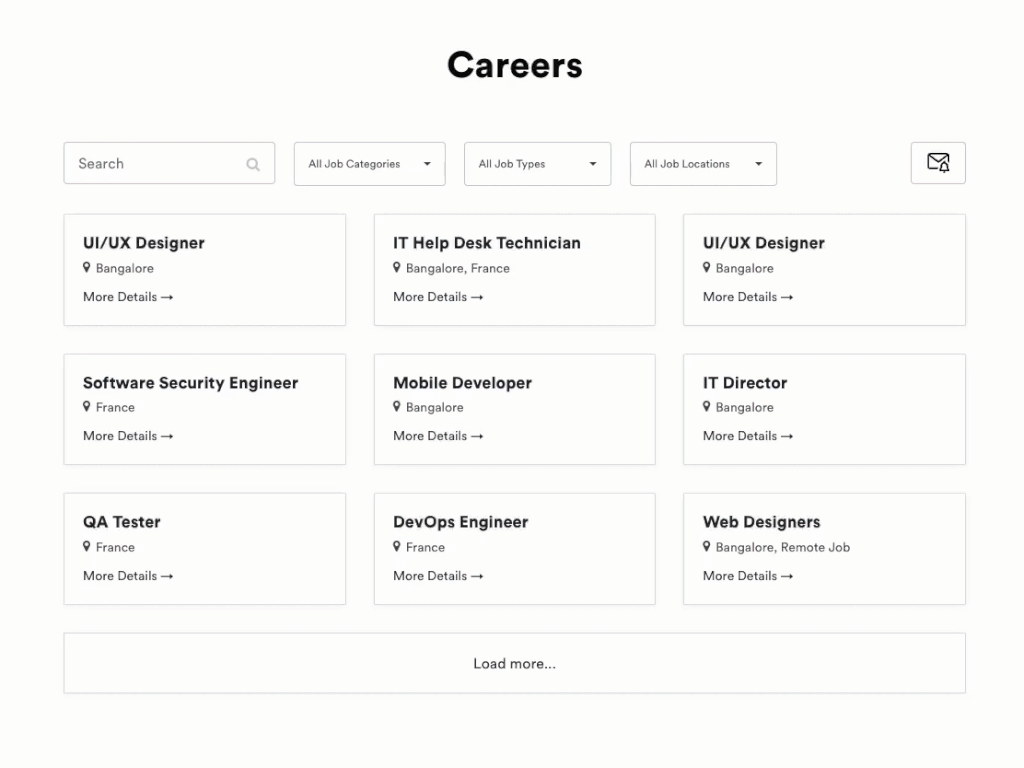 Key Features
Automated daily email notifications for new job openings
Subscription form with a dedicated button and customizable placement options
Option to choose job specifications for personalized notifications
Flexible placement as popups, in sidebars, footers, or within pages
Admin control to enable or disable job specification selection
Subscriber management with detailed job specification records and email logs
Customizable email template to match your brand
Highlights of Job Alerts Add-on
Seamless Integration: Job Alerts integrates seamlessly with the WP Job Openings plugin, extending its functionality without any compatibility issues.
Subscription Form: Easily add a subscription form to your job listing page with a dedicated button that opens a popup. You can disable the button and place the form anywhere on your website using Job Alerts Gutenberg block or sidebar widgets. The shortcode generator allows you to create and place the form as desired.
Versatile Placement Options: Place job alerts as popups, in sidebars, footers, or within pages, giving you the freedom to display them anywhere on your site for maximum visibility.
Customizable Job Specifications: Subscribers can select their preferred job specifications, such as location, job type, department, and more, ensuring they receive notifications only for relevant job openings.
Admin Control: Site administrators have the flexibility to enable or disable the option for subscribers to choose job specifications, tailoring the user experience according to their preferences.
Subscriber Management: The plugin provides a comprehensive list of subscribers and their chosen job specifications. Additionally, it maintains a log of all emails sent to each subscriber, ensuring transparency and effective management.
Customizable Email Template: Easily customize the job alert email template from the plugin settings to match your branding and maintain a consistent user experience.
Advantages of Using Job Alerts
Enhance User Engagement: Keep job seekers engaged by sending them daily email alerts about new job openings, increasing their interaction with your website.
Streamline Job Application Process: Subscribers receive targeted job notifications based on their preferred specifications, saving them time and effort in finding relevant opportunities.
Customized User Experience: Allow subscribers to choose their preferred job specifications, delivering personalized alerts that match their preferences.
Easy Implementation: With the popup subscription form, Gutenberg block, sidebar widgets, and shortcode generator, you can effortlessly add subscription forms to your website in various locations.
Efficient Subscriber Management: The addon provides a comprehensive overview of subscribers and their chosen job specifications, allowing you to track and analyze user preferences effectively.
Use Cases
Company Career Pages: Keep potential candidates engaged by offering personalized job alerts directly from your company's career page, increasing the chances of quality applications.
Niche Job Portals: Target specific industries or job categories by allowing subscribers to choose their preferred specifications, providing them with tailored job notifications.
Educational Institutions: Assist students and alumni in finding relevant job opportunities by offering job alerts based on their chosen preferences, streamlining the job search process.
Freelance Platforms: Notify freelancers about new job openings that match their skills and preferences, helping them discover relevant projects quickly and efficiently.
Job Alerts for WP Job Openings is the ultimate solution to boost job seeker engagement, streamline the job application process, and create a personalized user experience on your WordPress website.
Details
Version - 1.0.0
Last Updated - 13 June, 2023
---