User Access Control Add-on
Add-on to Manage User Roles and Access Control for Advanced WPJO Users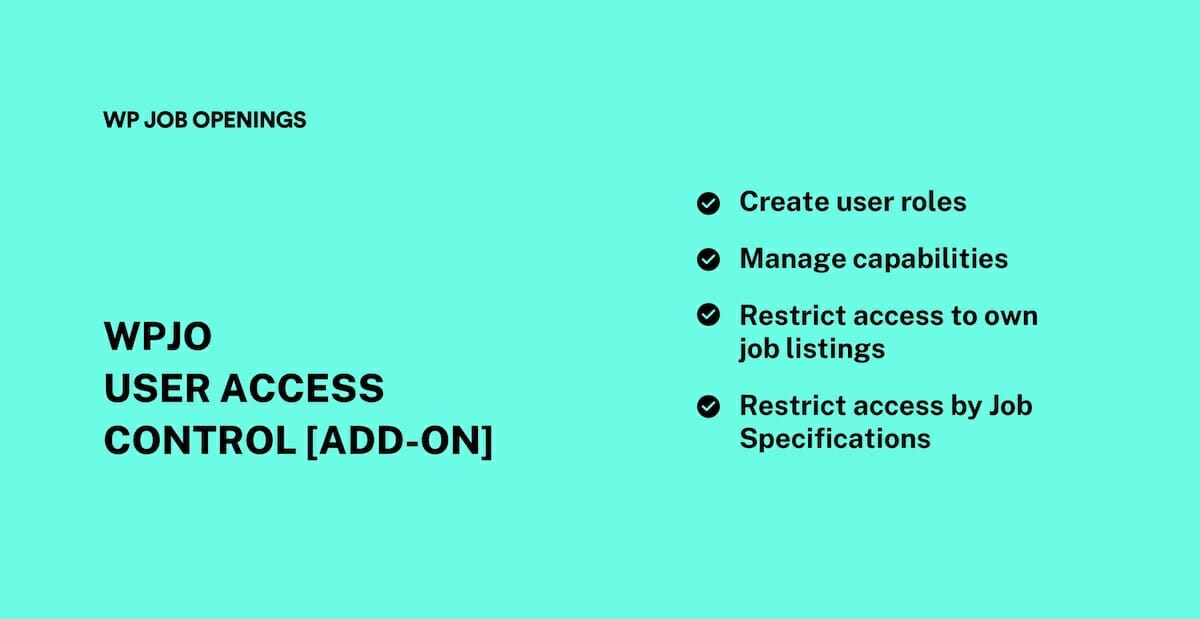 The User Access Control for WP Job Openings is a powerful user management Add-on that allows you to manage the capabilities of users managing the recruitment using WP Job Openings.
If you have a team of recruiters working competitively hunting talent for your company, this add-on will be an essential tool for you. Using the add-on you can add any number of user roles according to your hierarchy and assign capabilities and access as required.
You can even manage individual users' access with respect to selected job specifications. For example, if you want a recruiter to be able to access applications only from a selected location, this add-on will help you.
Key Features
Create new user roles and edit capabilities as you need to control the access within WP Job Openings

Edit the capabilities of the existing HR role
Restrict user access to own job listings and applications
Restrict user access by Job Specifications
Use Cases
Restrict an HR user from accessing WPJO settings and configurations
Create custom roles for recruiters with limited access to job listings and applications
Restrict access for a recruiter to job listings and applications from a specific location or a specific job category
Restrict access for a recruiter only to own job listings and applications
Limit edit access of a recruiter
Details
Version - 1.0.0
Last Updated - 9 June, 2022
---