Organizations always intend to grow and hiring is a usual process that caters to their growth. Most companies now have a career page on their website which makes candidates approach them directly with ease. Now, setting up a career page might look like a task, but here is an easy way to go about it – if your site runs on WordPress, this plugin would help you create a career page without any hassle.
The plugin is none other than our WP Job Openings – a plugin that enables you to have a career or job listing page on your website within a matter of seconds.
The Need for Career Pages
There are various reasons why a career page is important for your website, which we have discussed earlier. One of the main benefits of having career pages on your website is its utility and efficiency in getting job listings done. You can display job listings directly on your website and the interested candidates can approach you without third-party registration. 
Another great advantage of having a career page on your website is that it brings traffic and lets the visitor go through other content available on your site! Traffic is the key and a career page is a great source to bring that.
Whatever be your reason, the WPJO plugin allows you to set up the career page without code or editor. This article will help you understand the plugin better and how you can use it to have a thriving career page.
WP Job Openings Plugin
I am excited to talk about this in-house, gem of a plugin! I see my team, work day in and out to make this plugin efficient and I can't be prouder!
So, what exactly is WP Job Openings? It is a simple, yet powerful plugin for your WordPress site to add a career page. It is a great way to drive traffic to your site, and also to display job listings without third-party registration. The plugin comes in two layout styles – grid and list. Both are mobile-friendly, easy to view and completely customisable.
Some excellent features come with the plugin which include:
Easy to set up and use
Modern Layout Styles
Unlimited Job Specs
Clean Design and Functionality
Unlimited Filtering Options
Search Functionality
AJAX Powered Job Listing and Filtering
Default Form for Application Submission
Email Notifications
Application Listings
Structured for SEO
WPML Support
Developer Friendly
Works With All Top Plugins and Themes
These are all features of our free version! There is a premium/pro version that comes with more interesting features; you can take a look at it if it interests you.
Here's the tutorial on how to install and use the WPJO free plugin. We hope this makes your work easier.
Adding Career Pages to Your Site – Step by Step Tutorial
Step 1: Install and Activate
The first and foremost step is to install and activate the plugin. All you need to do is go to your WordPress website's admin dashboard, click on the plugins page and find the search field on the top of the page. Type the name of the plugin and once it pops up, install and activate it.
Step 2: Configure the plugin on the settings page
After installing and activating the plugin, the next step is to configure the plugin according to your liking. For this, you need to go to the settings page right under the Job Opening section on the left side of the dashboard. Under Settings, you will find five options to configure:
General
Appearance
Job Specifications
Form
Notifications
Let's go through them quickly one by one.
General
The 'General' tab has all the common configurations for the plugin. You can go through them and make selections as per your job posting requirements – how it can be displayed, performed etc.
Appearance
Under this tab, you can configure the appearance of the job listings page. There are various filters to choose from, so you can go through them all before you make a final decision.
Job Specifications
All the job specs can be added and removed under this tab. You can add as many specs as you like, as this tab has the option to add as many as you want.
Form
There is a built-in form that comes with the plugin and under this tab, you can configure it as per your requirements.
Notifications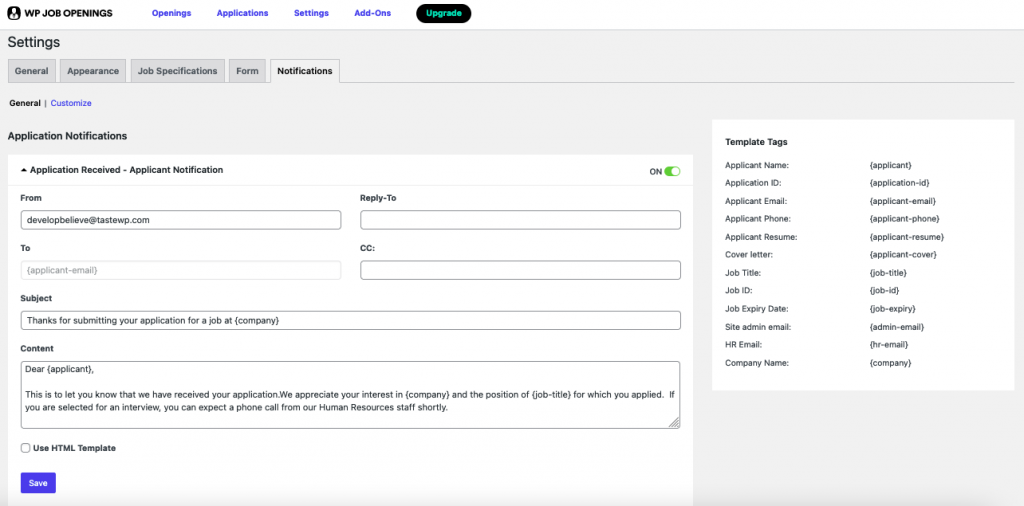 When an applicant applies for a job listed on your site, an in-built notification email will appear on your mailbox. Under the notifications tab, you can configure this and make it the way you like it.
Step 3: Add a New Job Opening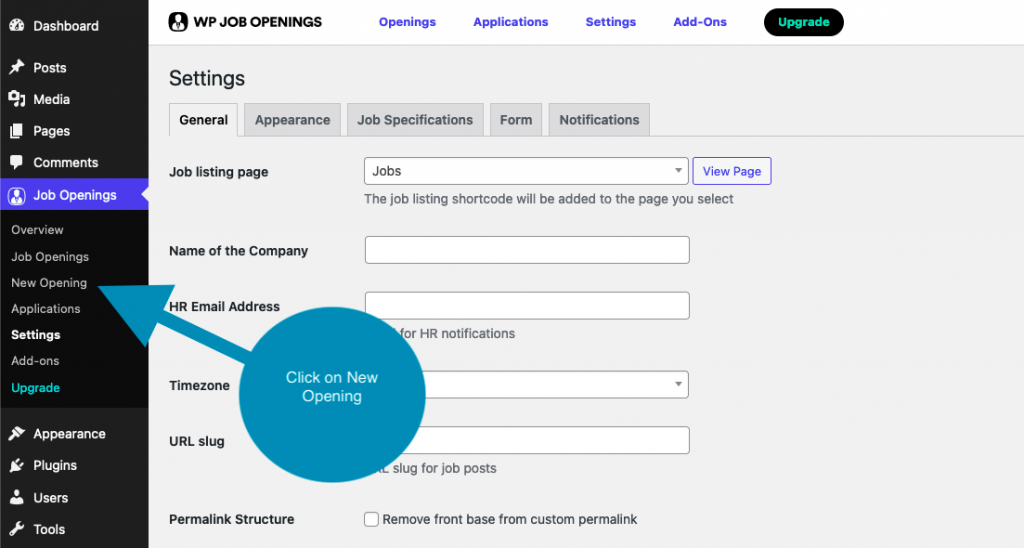 Once you configure the settings, you are ready to add a new job opening to your career page. Under the Job Opening tab, you will find the 'New Job Opening' tab where you can add the new job opening. The job editor will open where you could add a title and the description of the job available.
You can even add an expiration date for the job!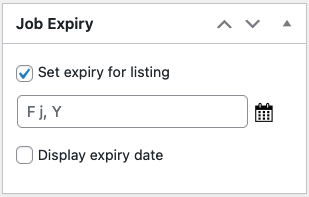 Once all the specifications are added, click on the 'Publish' button and the job opening will appear automatically on the career page. If you
Step 4: View Your Career Page that's now live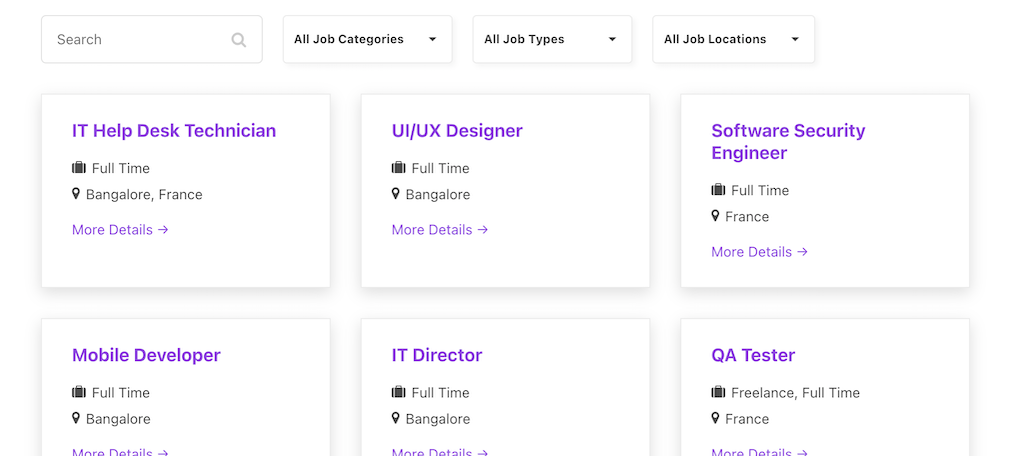 Your career page is now live and you can see how it looks. The page will appear based on your chosen choice – a grid, or a list. To fill up the page, you can add job openings over time. Now, your career page is ready and it will be displayed beautifully on your website!
If you want to make any changes further, you can always go back to the settings page and change as per your requirements.
View all applications whenever you want!
The WPJO plugin comes with an option to house all the applications submitted to all available job openings in one place. You can scroll down to the Applications tab under the Job Openings tab and you can view the information whenever you want.
Wrapping Up
Having a career page is a great idea both for your website as well as business. And WP Job Openings will be an excellent addition to your site. If you have any thoughts or queries about the plugin, please feel free to contact us.