The final piece of the puzzle when it comes to maximizing application submission is your organization's career page. The careers page plays a crucial role in influencing candidates, but its potential often remains untapped.
Everything you do to attract candidates, from posting on external job boards to offline ads, leads to your organization's website; to be more specific, they lead to the career page. A plain and dull career page with just the open positions won't be enough. The career page should be carefully crafted to highlight your organization, its values, and missions and, at the same time, should also engage the visitors and drive them towards a successful application submission. 
To achieve all these, there are certain elements that you need to include on your careers page. They can make a world of difference and increase application submission rates. Before we dive into the top things you need to include on your careers page, we need to understand the role a career page plays and how important it is to get it right.
What is a Career Page?
A career page is where you tell the world that you are hiring and make it official. Depending on the organization, the career page can be a single web page or a microsite, but the end goal is the same. To show the open positions, highlight what it is like working at your organization and why they should choose your organization.
As simple as it sounds, getting the career page right is not that easy. The career page is a blend of many things, which we will discuss later. Get it right, and you will see an inbox full of applications, but if you get it wrong, you will see an inbox with very little activity. 
Why is a Career Page Important?
Have you ever seen a card castle tumbling down? All the effort and time invested can be ruined by a tiny mistake. Not giving the needed importance and attention to your career page can have the same effect. Once the candidates spot a job opening, be it from an external job board or offline advertisement, they will flock to your website to get more information and ultimately land on the career page.
The careers page has to talk to the candidates, connect with them and convey what they want to know and see. The only way to achieve this is to start thinking like a candidate and not from a recruiter's point of view.
Don't believe us? Take a moment to view your career page from a candidate's perspective. Go through the careers page as a candidate. Like what you see, or do you feel incomplete? If you feel incomplete because of the lack of content and information, do you think a candidate will feel compelled to apply? Now, you know the reason why you are not seeing the results that you expected when it comes to application submission.
We have already done a detailed analysis of the importance of a career page, but we will quickly go over the importance of a careers page. The careers page is your opportunity to make a good impression on the candidates, how you may wonder? By putting your organization's culture, benefits, awards, and achievements in the limelight.
This is your chance to showcase to the candidates why they should choose your organization to work over others and how it will benefit them in the long run. All the hard work you did outside the career page, like posting on external job boards and all lead to this moment. So, if you didn't optimize the career page beforehand, then you will be at a loss when in it comes to making the best first impression.
The Top Things to Include on Your Careers Page
Now that we have covered how important a career page is and how it can drive up application submissions, now it is time to look at the top things that can make up a careers page. These elements – every single one of these, plays a crucial part when the candidates are checking out your organization.
1. Talk about your organization
Keep it short and simple. The points to focus on are: Who you are, what you do, your journey, what makes you special, and why you are in a different league than your competitors. Make sure to write the content so that it amuses the audience and evokes a sense of curiosity in them to explore more about your organization.
2. Talk about the company culture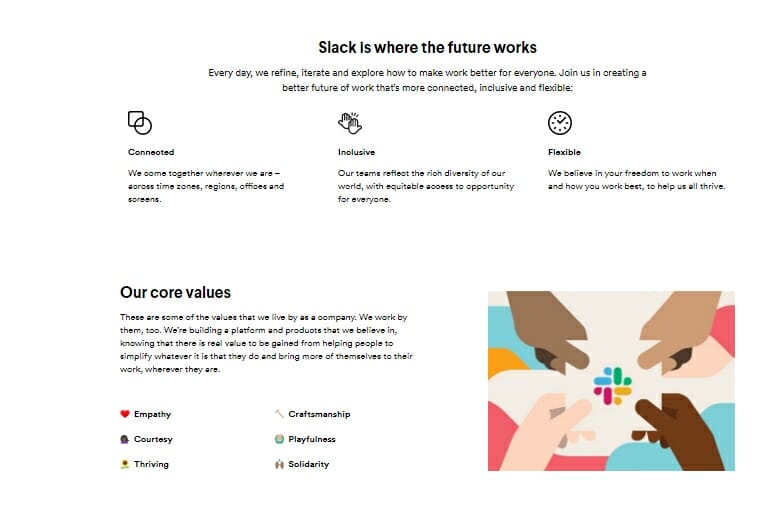 Will you take the risk of walking into the unknown and later regretting it? Give the candidates a glimpse into your work culture and what makes you stand out. Highlight your mission, core values, and philosophy. Most candidates prioritize a good work culture and atmosphere over salary. A place where they can truly grow, learn and showcase their skills matters more than anything.
So, show the candidates that your workplace is the perfect ground to achieve this. You can achieve this by showing employee testimonials or highlighting the reviews you have gained on external websites like Glassdoor and GoodFirms.
3. Awards and Recognition
An opportunity to work for an organization that has bagged multiple awards and is recognized by clients globally is a once-in-a-lifetime opportunity. But do the candidates know about this? If you are not conveying the recognition you have received and the awards bagged over the years, then you are just a normal organization for them.
Therefore showcasing your achievements on the careers page will only create a good brand image and at the same time, will elevate your organization to a league of its own when compared to others.
4. Benefits and Perks
An organization that has strong values is focused on its mission, bagged multiple awards, and has a good work culture. So far so good. The candidates are interested, but now comes the primary factor, What's in it for them?
When you offer benefits and perks, you come out as an organization that values employees and cares for them. The most common benefits and perks that an organization should include are:
Paid time off
Flexible work schedule
Health insurance
Periodic salary revisions
Option to work remotely
5. Include pictures and videos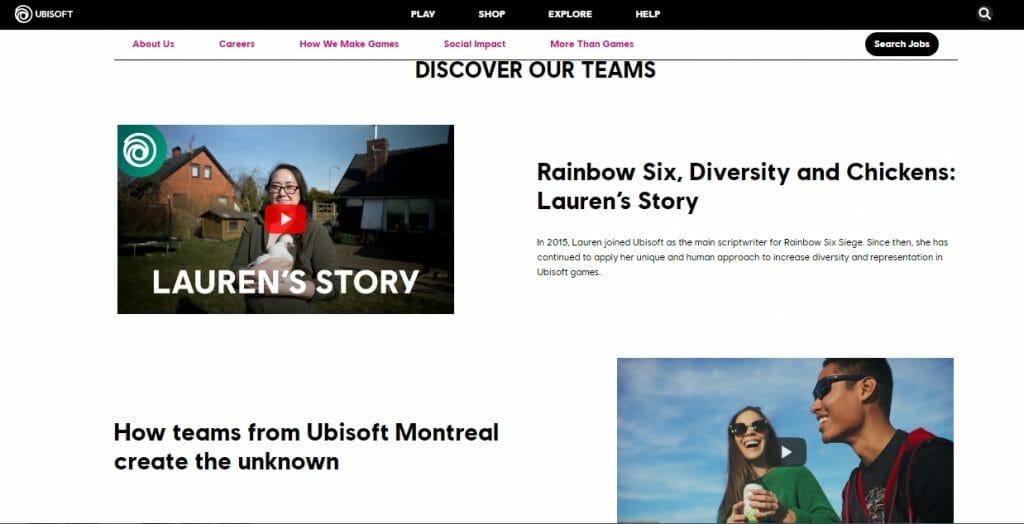 Share the smiling faces of your team, and office space and showcase the fun you have. Remember how we mentioned you should highlight the work culture and atmosphere? The best way to do that is by adding images and videos of your team having fun and engaging in activities. This will give the candidates the needed assurance that your organization stays true to the work culture and atmosphere that was mentioned and wasn't a gimmick.
6. Use a clearly defined job post
We have already talked about how a job post is different from a job description and how it can help you. Based on the open position and the targeted candidates, craft your job post in a way that aligns with the applicants' goals and visions. The point to note here is to always use a job post and not a job description.
7. Enable Job Alerts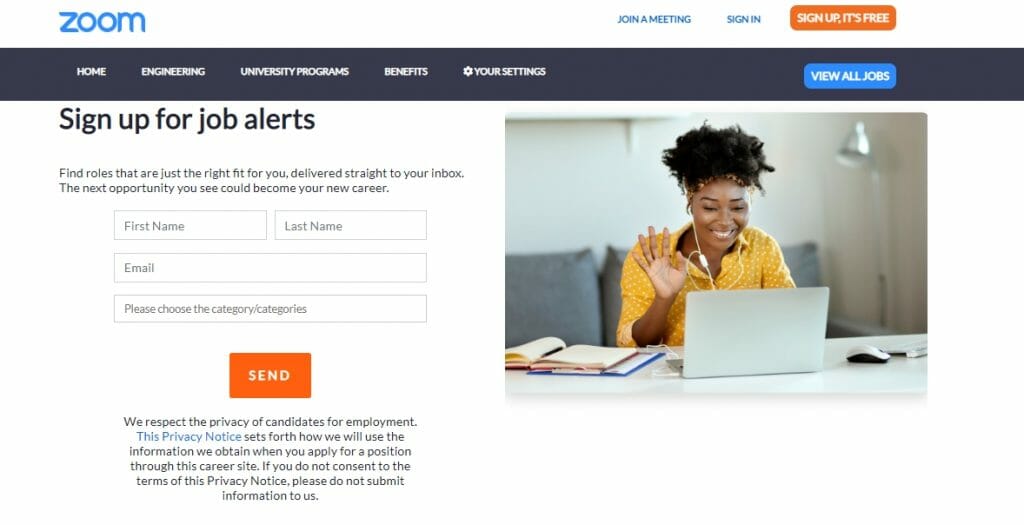 As an organization, you always want to keep the candidates close and in the loop. What if a candidate visits your organization and finds that you don't have a current opening that suits them? How can they keep track of it?
In such situations, enabling job alerts for candidates to sign up is essential. It's a win-win situation for both parties. The candidates will be alerted automatically when a new open position goes live, even if the position doesn't suit them, they can still share the news. For a recruiter, this is a bonus, you get to have a pool of possible candidates and referrals without doing any additional work.
8. Keep the application forms simple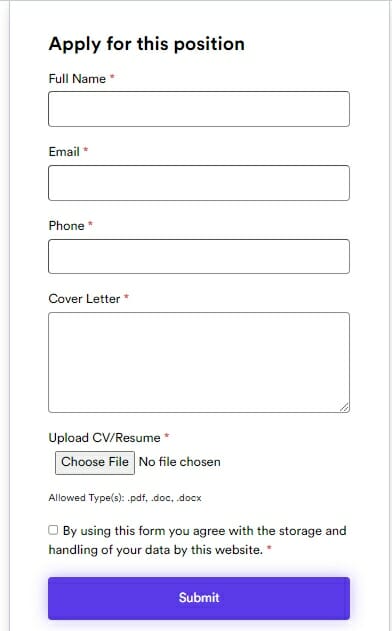 Even after doing all the hard work to captivate the candidates and drive them toward the required action, your job is not over yet. If you decide to make the application form a long and winding one, the candidates are sure to quit halfway. 
If the initial process is lengthy, what follows will be even worse. This is the thought that will arise in the mind of the majority of the candidates. So, keep the application form as simple and short as possible. With our job board plugin WP Job Openings, creating application forms is easier than ever before. You can create application forms, enable as many fields as you want with our form builder, enable file uploads, have different forms for multiple openings, and so on.
Wrapping Up
So if you were thinking about only including the current job openings or having a career page with just the openings, now will be the time to change it. As we have discussed a career page that houses all the above-mentioned elements will see the desired outcome.